And I kicked it all off with what is possibly the longest blog post title ever. So! A whole month has gone by since I last wrote on here. A whole month! I actually had to click on the little "Forgot your password?" thingy at the bottom of the log in screen when I tried to access my blog. Let's get started, shall we?
I choose to begin this recap with what was maybe one of (ONE OF! Because, hello? Does anyone remember, umm, Charlie's whole first four months of life? Those sucked, too) the worst weeks of my life. Charlie's First Ear Infection.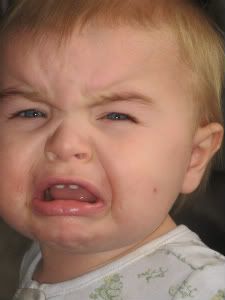 We go in to the pediatrician for an innocent well-child checkup, and leave with a prescription for antibiotics and the nurses waving goodbye with sympathetic looks on their faces. I was unprepared for this. This HORROR, the ear infection. Ella didn't have one until she was 3, and it was a minor one at that. And Ella is Ella and she doesn't really complain that much. But oooohhhhhh Charlie. He was never happy, not for a solid week. He didn't want me to sit down with him, he didn't want to nap, he didn't want to really eat much, what he wanted was for me to carry him around the house while humming softly and kinda jiggling him around and OH MY GOD I had Post Traumatic Stress Disorder panic attack flashbacks to when he was a baby and I did the baby jiggling routine for 24 straight hours a day. I also maybe kinda started to lose it on Day Four of the Scream Fest. I am a rational adult, I understood that the poor little guy was in pain, and I felt so badly for him, I really did. I soothed. I cuddled, I dispensed appropriate medications to help ease the pain. But dear God in heaven there is a limit to how much screaming I can take and nothing I did was working and I may or may not have uttered the words "This needs to effing stop right now, you are being a jerk, baby." And then felt like a complete asshole for calling my baby a jerk. Aaaannyway, it ended up fine.
And then Christmas happened. I actually do not really remember a whole lot about it, except that our electricity went out on Christmas Eve while we were getting ready to go to church. Well, I was getting everyone ready, the husband was doing something work-related, I think. Although I can't be sure because I think I have blocked that entire night from my memory. Suffice it to say that both kids were screaming, it was pitch black in the house and my hair was still wet, and then things calmed down a bit when I reminded myself that hey, we are going to church to celebrate Jesus's birth and maybe it is inappropriate to say the GD word. Ahem. Christmas pictures!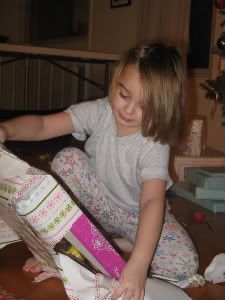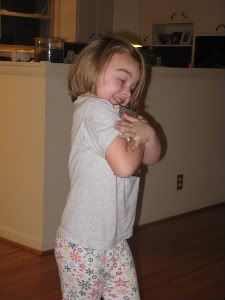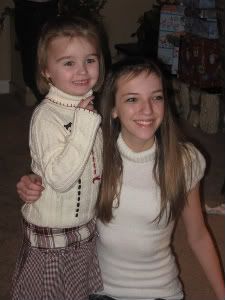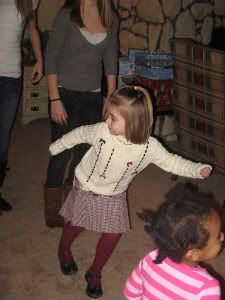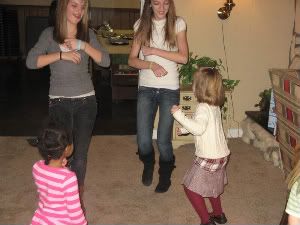 And then it was our sixth wedding anniversary. We partied it up big time by going to dinner on New Year's Eve, and being asleep in bed by 10:00. The plan was initially maybe to do dinner AND a movie, but someone *coughcoughmecough* was a complete tool and didn't make reservations for dinner on NEW YEAR'S EVE. An hour and a half of waiting in the restaurant and a nice dinner together and we were spent. I feel old.
Next up, I give you Panic! In The South! Aka SNOW. Sweet Jeebus, I am FROM the damn south and I have never ever gotten my panties in a bunch like some people I saw around here. For three whole days before Blizzard '10 hit us, the news channels here showed nothing but weather coverage with weather men and women standing in front of screens that said things like "Preparing For The Snow". And then...it came. SNOW! I'll admit I actually got a teensy bit excited when it started coming down heavily that morning. By all accounts it was supposed to continue all night and we should wake up to veritable winter wonderland the next day. You can only imagine how damn excited Ella was that night before bed. So we wake up the next day and she rushes out to the window and...umm, you could still see the grass. Yes, it snowed and the driveway was covered, but there was MAYBE an inch total. MAYBE. And yet there were still abandoned cars on the side of the road after some dumbass gunned it going around a curve or slammed on his brakes and fishtailed off the road. God, I love the south.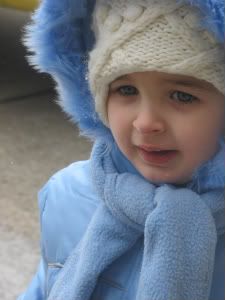 Playing in a teeny tiny patch of snow on the driveway, because there was not enough in the grass to even make a snowball.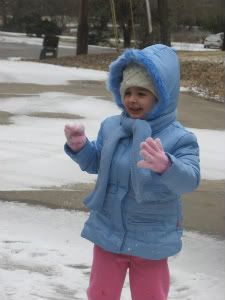 And now we move on to my least favorite time of year. The black, abysmal void that is January and February. These two months could fall off the calendar for all I care. All they are good for making you be trapped inside with your sick kids and their whiny whining all day. Here's what we've been up to so far in January. Try not to be jealous, it's all terribly exciting.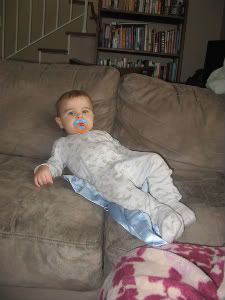 Ella, umm, cuddling with a bottle of nail polish remover? I hate the winter.
Ella discovered the newest rage amongst kids these days...Silly Bands. Bracelets that are shaped like something like a heart or a giraffe and then you can wear them on your arm. Huh? Whatever. I hate them, because they are sold out everywhere and she keeps losing them and wanting more and I can't find them anywhere.
Close up of the hooker dolls she is in love with lately. They may meet their demise next week in the form of a trip down the garbage disposal. What, is she sixteen all of the sudden with the bracelets and the mini-whore dolls?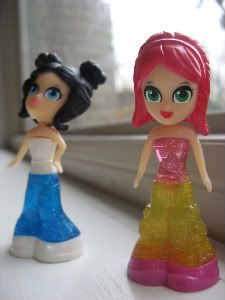 Charlie learned to do this: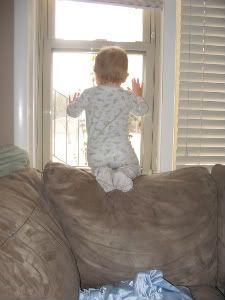 He fell in love with THIS thing, which, if you have kids I highly recommend to you. It is a ball popper that shoots balls out the top and simultaneously plays horribly obnoxious music, but it is Baby Crack. I thought Charlie was going to stroke out when we turned it on for the first time, plus he will play with it by himself for like a full twenty minutes, which YAY. RAISE MY BABY, FISHER PRICE.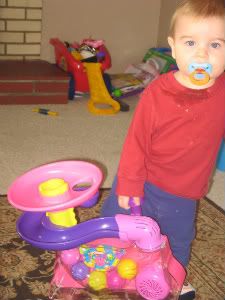 And then we all went insane from lack of sunshine and adult conversation.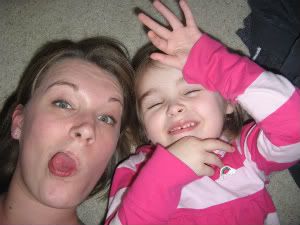 And that is all. I think that brings us up to date, minus the horrible colds that we are all passing around, except for me who is probably immune to the common cold because I have had so many given to me by my children. At this point, though, who really cares because it's not like wiping up green snot and throat phlegm could get any worse if I were sick.
"The end. Get off my lawn, you crazy kids with your hooker dolls and Silly Bandzzz."