So it turns out? When you have kids and it's summertime? You're busy. Very much so. We've been at the pool, at the splash pad, at the park, at the bouncy-inflatable-oh-God-please-don't-catch-Hand-Foot-And-Mouth-Disease place, watching fireworks, riding bikes and scooters, taking walks, meeting friends, and various things of that nature right there. Which means that taking five minutes to pound out a blog entry ranks right up there with "scrub toilets" when the kids finally fall asleep around noon. Somehow I feel a smidge odd about having a lovely, updated blog when we are all picking clean clothes out of the dryer when we need something to wear, and I have resorted to kicking the large-ish crumbs that stick to my feet into the space underneath the oven rather than sweeping. So without further ado, I give you An Update.
*Ella's new favorite place. Ever. On Earth. I think she has asked to go back to "the jumping place" about seventeen hundred times since last week. Which would be fine, except for that a friend that was there with us last week said "Oh, the girl is coming in to clean the bouncy things" and I said "Oh! Fantastic! At least we know that this stuff is clean and the kids won't pick up any nasty..." and she was all "With Windex." Dear Bouncy House Place Employee Girl: Lysol Wipes.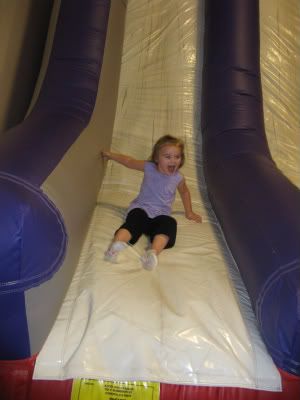 *Charlie. Is cute. That's about all he's up to these days. He is trying ever so hard to crawl, with no success. Unless your definition of "success" is "rocking your body back and forth like you're having a seizure and then slamming your face into the floor. Hard."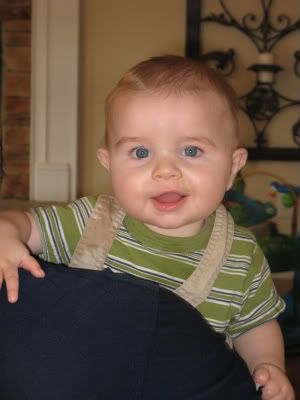 *Me. Am sad. The dance studio I grew up in (literally) and spent the majority of my time in from the ages of 7 to 18, is closing. I know, right? I DON'T DANCE ANYMORE. Why should this matter? If you are asking this, then you...sound like the husband. But it does matter! It's sad! There was (is) an amazing lady behind that place that had an enormous, huge, very very big influence in my life and got me and my friends through some rough, rough times. We were a family. So I've been attending farewell get-togethers this past week. Which adds to The Busy-ness Of Abby.
The front of the dance studio, covered in pictures and letters and memories and now I need a Kleenex.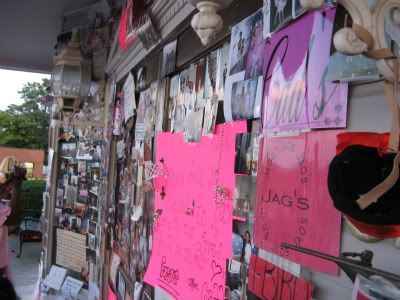 *Ella. Has developed a completely irrational fear of all things mushy and gushy as related to Charlie. Spit up. Slobber. And BABYFOOD. She is so freaked out by the possibility that the squash I am feeding Charlie will somehow leap across the room and land on her that she will not come near me at his mealtimes. She gags. Dry heaves. And this was her face when I dared walk within three feet of her holding a bib with green beans smeared across the front.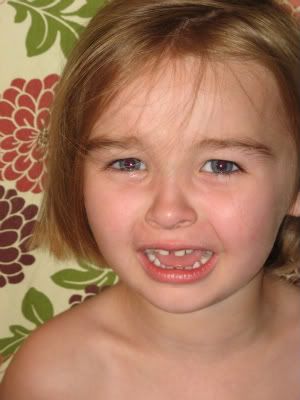 * Fourth Of July. Meh. It started out just peachy, with my mom having a slumber party with Charlie at her place so we could take Ella out alone for some big girl time with mom and dad. The In Laws even decided to join us, and we planned to meet at The Spaghetti Factory. Awesome. I love that place. So, like the true idiots that we are, we were running late and decided hey! Let's just park right in the middle of all of the holiday festivities downtown. I don't know if any of you have ever
been
to the downtown fireworks in Nashville, so let's just say that I don't think I've ever seen that much traffic anywhere, ever. Nightmare. So we make it to the restaurant, order our food, and BANG! Lightning and thunder. Awesome. Rumor had it that there were huge storms moving in quickly, and they were starting the fireworks show early. So we shoveled the food down our throats and made our way outside. Still having fun! Psyched to see the awesomeness that is Nashville's Firework Show! What happened next can best be described in pictures and smart-ass captions*.
"Hey, since it's about to rain, let's just scrap the stand-on-the-walking-bridge idea and head up to the parking garage that for sure has a killer view of the riverfront where they are staging the fireworks. This is a no-fail plan."
"And we're off! We are so smart. This is going to be awesome."
"I know that the city spends about two million dollars on this spectacular show, but seeing just one-twentieth of the action from between two buildings is just as good."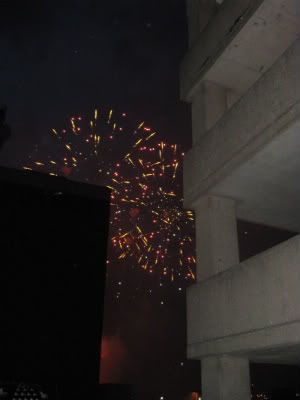 *All was well in the end, and I really didn't care that we didn't get to see the whole show as I have seen it countless times before. It started raining about five minutes into it anyway so we had to leave, but Ella was still absolutely thrilled with what she got to see. She kept screaming "The fireworks are candy sparkles!" over and over again. It might be fair to note that at this point it was about two hours past her bedtime and she really had no clue what she was saying.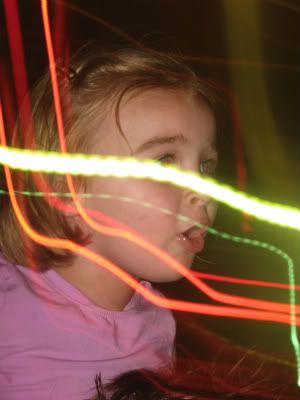 * Charlie. Still cute. And still sitting in that damn exersaucer. He loves that thing so much I'm thinking of starting an album of just pictures of him in it. It should be full by Friday.